Foreword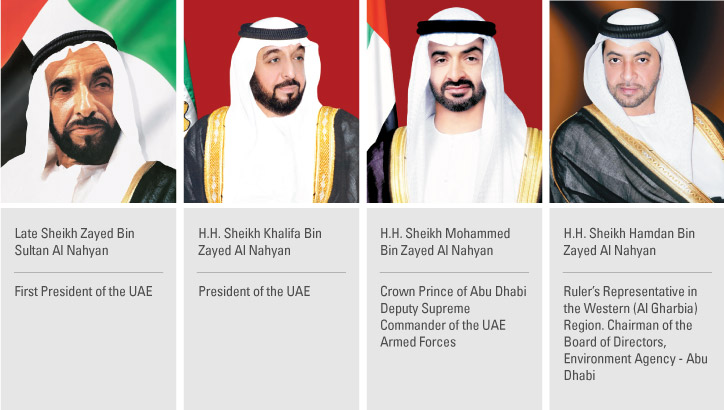 "On land and in the sea, our forefathers lived and survived in this environment. They were able to do so because they recognised the need to conserve it, to take from it only what they needed to live, and to preserve it for succeeding generations."
Late Sheikh Zayed bin Sultan Al Nahyan
During the past few decades, our society has progressed in so many ways that we all sometimes forget that we live in a small country, amidst an environment that is sometimes harsh, but also beautiful, delicate and sensitive. We are graced with immense wealth underground, but also with great natural beauty and with a wide variety of biodiversity in the waters of the Arabian Gulf, our deserts, plains and wadis and in the rugged hills of Jebel Hafit.
The residents of our capital, Abu Dhabi, live in one of the world's most modern and rapidly developing cities – we have come so far in so short a time and the rate and quality of development continues to advance every year. Where we once struggled to draw brackish drinking water from a well, one bucket at a time, we now produce hundreds of millions of gallons of fresh water every day from high-tech desalination plants.
However, although Abu Dhabi continues to rapidly develop and modernise, we have not forgotten Sheikh Zayed's sage advice that we should conserve our environment and all that lives within it. In fact, the more that we develop our knowledge base and policies, the more we place an emphasis on environmental management in order to achieve a sustainable society for our children.
The mandate of the Environment Agency – Abu Dhabi (EAD) is to protect and conserve the environment with the vision of achieving a sustainable future and a sustainable environment. One of the many initiatives we pursue in support of these aims is to improve the state of knowledge regarding our environment. This includes the work of dozens of dedicated specialists conducting environmental research and studies so that we can learn more about our landscape, the species with whom we share it and the challenges of providing the necessary protection. It also includes sharing this knowledge and educating the public. Our sincere hope is that, as we improve society's understanding and appreciation for our environment and the issues we face, we all, Government, private sector and individuals, will act in a more responsible manner.
This website, the Environmental Atlas of Abu Dhabi Emirate, represents a key milestone for EAD – and for Abu Dhabi. It brings together, in a beautifully illustrated and highly accessible format, a broad story that weaves together the major themes of Abu Dhabi's environmental inheritance, including the geological history, water resources, marine and terrestrial habitats, our oil and gas resources, the remarkable story of human development and the challenges society faces as we look to the future.
H. H. Sheikh Hamdan bin Zayed Al Nahyan
Ruler's Representative in the Western (Al Gharbia) Region
Chairman of the Board of Directors, Environment Agency – Abu Dhabi