In Search of a Common Story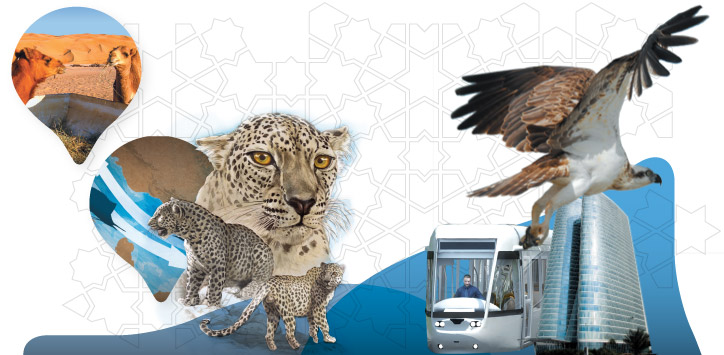 The Atlas presents a comprehensive and diverse range of themes covering history, geography, anthropology, natural sciences, culture, economics, social sciences and interrelated environmental themes, to name a few. They are addressed along a timeline that encompasses the past and present, as well as a sustainable vision for the future. To make the contents engaging, a common storyline brings unity to the diversity of themes and topics. The Atlas tells the following simple and engaging storyline:
The physical geography of the Emirate has evolved steadily over geological time involving episodes of both dramatic and subtle changes.
These formative forces resulted in the unique and fragile environment seen today, comprised of desert landscapes and their intricate interface with the sea.
Over millennia, the environment has constrained and shaped human development in complex ways through innovation, adaptation and survival. In short, the environment dictated the potential and fortunes of man.
In recent decades, the same environment has provided immense opportunities and potential through the extraction and utilisation of bountiful natural resources, namely oil and gas.
This bounty has propelled Abu Dhabi's development into the present impressive realm with rapid change, urbanisation, social development and widespread economic growth.
However, the future presents many unique challenges, especially how to re-invest this wealth and opportunity for the long term in a balanced and sustainable manner so that social, environmental and economic assets are available to future generations.
While in the past the environment shaped the destiny of human development, now humans have the technical capacity and resources to reshape the environment to meet future requirements. This poses serious challenges, not least in the responsible drive for sustainability – ensuring that by meeting the needs of the present, the aspirations of future generations are neither neglected nor compromised.
The challenges of sustainable development are complex and rich with both opportunities and risks. In addition, the sense of urgency is real within a dynamic global environment confronting the impacts of globalisation, climate change, resource shortages, loss of habitats and species, geopolitical instability, mass migration, threats to human health, nutrition and endemic poverty amongst others.
The Environmental Atlas of Abu Dhabi Emirate presents this story and the interwoven themes within a compelling, accessible showcase. It highlights what is unique about the environment of Abu Dhabi, how the past shaped the pathway towards the present, and how the lessons learnt from this experience should be applied to attain a sustainable future.