Preface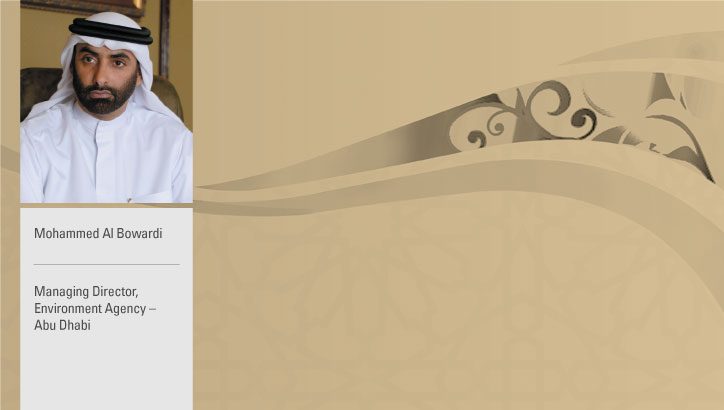 There is an old proverb that says, "We do not inherit the earth from our ancestors, we borrow it from our children." This proverb has never been truer, and to put this into current context, our world is facing an environmental credit crisis.
Our region has played host to human settlements for many thousands of years. In fact, the appearance of modern Man in the Middle East around 200,000 years ago, arriving from the cradle of Mankind in Africa, pre-dates the spread to the rest of Asia, Australasia, Europe and the Americas. Although the climate and environment of Abu Dhabi has changed over the millennia, our ancestors managed to live and prosper in harmony with one of the most demanding settings possible. The harsh conditions and limited availability of fresh water has long constrained the growth of societies across this part of Arabia. To survive, our predecessors were forced to live in balance with nature.
With the discovery of oil, global society has been able to tap into the solar energy stored as fossil fuels hundreds of millions of years ago. In Abu Dhabi and the rest of the UAE, the exploitation of oil, and now gas, has enabled us to overcome many of the limitations imposed on development by our environment and to develop a modern, growing and vibrant society that is admired around the world. However, along with the rest of the global community, we are also keenly aware of the stress that modern development is placing upon our planet.
While we have managed to overcome the difficulties and limitations imposed on us by our natural environment, we have not forgotten our heritage or the way in which our ancestors were obliged to live in harmony with that environment. Only a few decades ago, we were still dependent on wells for our fresh water, and simple tracks across the sands or through the mountains provided the links between our small towns and villages, not the great highways that connect the cities of today. Our late president, Sheikh Zayed bin Sultan Al Nahyan, the 'Father of the Nation', was well aware of that heritage, and was a champion of environmental conservation long before it became a fashionable topic. Today, cherishing his legacy, our government continues to work to increase awareness and to invest in environmental protection and management, and are actually leading the way internationally in many respects.
As the Managing Director of the Environment Agency – Abu Dhabi (EAD), I have a keen personal interest in our desert and marine environments and take much pride in the work that EAD is undertaking to ensure that our continuing programme of national development is implemented in a sustainable manner, so as to conserve and protect those environments for future generations.
Whether carrying out fieldwork, being engaged in public awareness programmes or devising and implementing regulations and policies, all of this work ultimately contributes to the protection of our natural wildlife and, ultimately to a more sustainable society.
One of the key objectives of EAD is to enhance our understanding of the natural environment and to share this information with as wide an audience as possible. Our region has a fascinating geological and environmental history – studies of recent fossil finds in Abu Dhabi and geological records have provided important indications of past climate change events and their consequent effects upon the environment. This land was not always a desert. Likewise, EAD's studies of Abu Dhabi's coastal and marine environments have improved our understanding of the very important role that phytoplankton, seagrass and mangroves play in the marine lifecycle as well as the important role they play in absorbing carbon dioxide. Once we properly understand these natural systems, both of the past and present, the easier it will be for us to ensure that we do not inadvertently harm or lose these habitats and their interdependent species. If we do not protect them, we run the risk of harming the keys to our own health and survival.
It is for these reasons that EAD has prepared this Environmental Atlas of Abu Dhabi Emirate. The story of Abu Dhabi's geological, natural and human history is intriguing and of interest to all, from school children to government leaders. In conceiving the Atlas, we decided that we wanted to appeal to a broad audience yet present key data and issues of interest to scientists and decision-makers. We sought to prepare an atlas that draws together and interrelates a broad range of environmental topics pertaining to Abu Dhabi, presenting the data in a graphical format that would attract the reader's attention, yet, at the same time, would include thoughtful and informative narrative to retain the reader's interest.
The Atlas has been prepared by a diverse group of contributors, to whom I express my gratitude. Over a period of almost two years, our staff of environmental scientists, policy experts and habitat managers have worked together with a dedicated team of writers, graphic artists, editors and cartographers to bring the project to fruition. The Atlas team also included a number of recognised experts from other agencies and organisations, whose cooperation and dedication is much appreciated.
The end result of this endeavour is a beautifully illustrated and highly informative resource that will help readers appreciate and understand Abu Dhabi's natural heritage and the issues we face in its preservation and protection. I hope that this Environmental Atlas of Abu Dhabi Emirate will educate and inspire both children and policy-makers to adopt a more sustainable outlook towards the environment in which we live as well as in our daily lives.
Mohammed Al Bowardi
Managing Director, Environment Agency – Abu Dhabi