Oil & Natural Gas Economy
The Paradox of Plenty
"Oil is worth nothing unless it is used in the service of the people." Sheikh Zayed
The Emirate of Abu Dhabi has transformed its society into a modern city-state primarily due to the income from its oil and gas production. While some hydrocarbon-rich nations have experienced a 'natural resource curse' including corruption, conflict and one-dimensional economies subject to volatile international terms of trade, Abu Dhabi and the UAE have avoided this plight as a result of the resolute leadership and vision of the late President Sheikh Zayed bin Sultan Al Nahyan, who correctly observed that oil could be "both a blessing and a curse."
Sheikh Zayed implemented a policy where the revenues from oil and natural gas should be invested in the development of other sectors of the economy. Most importantly, the revenues continue to be used to provide essential services and educate the people, whom he described as "the real wealth of the nation."
As a result, Abu Dhabi's economic policies have been prudent and forward-looking with surplus revenues from oil and gas exports being invested at home and overseas to purchase a range of assets and to diversify sources of national income. Government promotion of public–private partnerships has also fostered diversification within and beyond the energy sector to remain competitive within a dynamic world economy.
Fundamentals of the Oil and Natural Gas Economy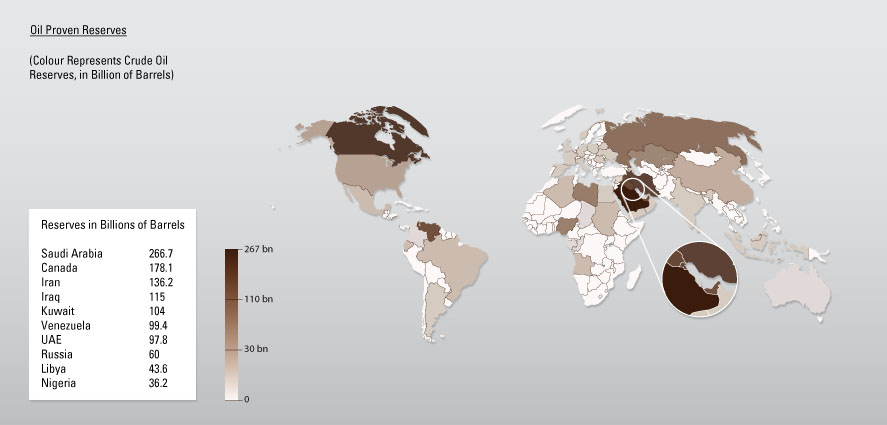 Proven oil reserves are defined as those that have a reasonable certainty (90% confidence in accuracy of projections) of being recovered utilising current technologies and under current political and economic conditions. As of 2007, the UAE had an estimated 97.8 billion barrels of proven oil reserves, 95% of which belongs to Abu Dhabi Emirate, along with significant natural gas reserves. Based on these estimates, Abu Dhabi ranks 5th in the world in oil and gas reserves, although relative to the number of its citizens, it ranks 2nd only to Kuwait. Moreover, much of the Emirate's oil is relatively easy and inexpensive to extract, particularly onshore.
The UAE is a member of the Organisation of the Petroleum Exporting Countries (OPEC). Member countries try to achieve stable prices and sustainable production capacities, permitting them to alter their actual amount of production
to meet variations in global demand, which can be affected by economic conditions, geopolitical events and even weather conditions throughout the world. The UAE's current production allocation by OPEC (mid-2009) is set at about 2.2 million barrels per day. Based on current reserves and production rates, the UAE is projected to continue its oil and gas production well into the next century.
However, decisions about how much oil and gas to extract, and from which reserves, and assuring efficient delivery to local and international customers, is a highly complex business that the UAE addresses at a national level. In Abu Dhabi, such intricate decisions are guided by the Supreme Petroleum Council and supervised by the Abu Dhabi National Oil Company (ADNOC) and its 14 subsidiaries and joint venture companies.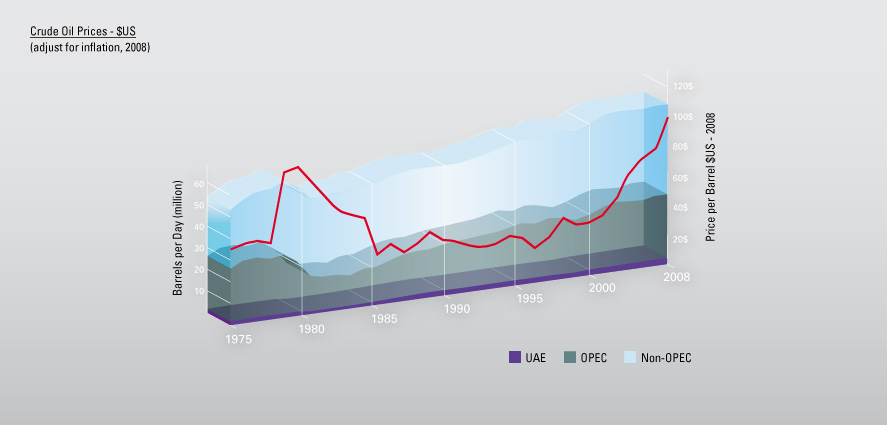 The Drive for Diversification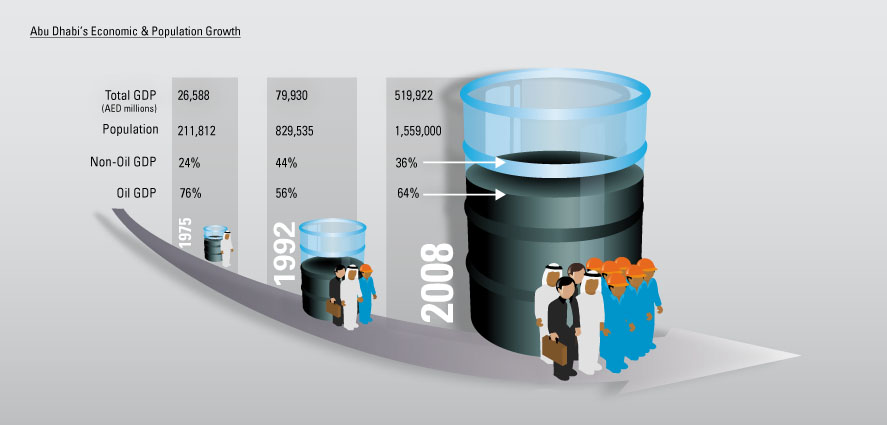 Established in 1971, ADNOC and its 14 subsidiaries and joint venture companies are now diversified into exploring, producing, processing and marketing the natural hydrocarbon resources on which the world economy depends. This includes crude oil, natural gas, liquefied gases, refinery products, polymers, lubricants, fertilisers, chemicals, and services like onshore and offshore drilling operations, construction, transportation, storage and distribution. However, economic diversification is gradually reducing the role of oil and gas in Abu Dhabi's economy. Its share in total GDP varies with the price of oil but has fallen from over 70% during the 1970s to about 50% today. Oil refining now represents less than half of Abu Dhabi's growing manufacturing sector. Diversification is a key element of Abu Dhabi's Economic Vision 2030. While the oil and gas sector will continue to grow and will remain significant, the strategy calls for an increased share by other sectors of the economy, including downstream oil and gas activities. The overall intent is to reduce the economy's relatively high dependence on oil and the cyclical swings which accompany it.
Pursuing Innovation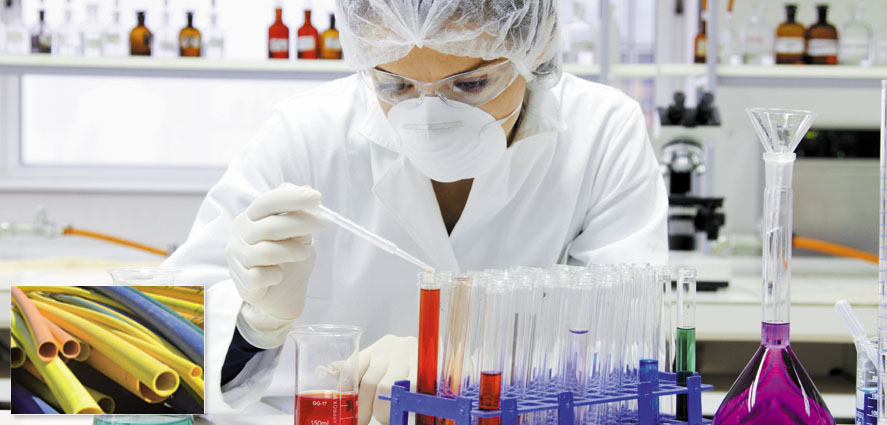 Abu Dhabi has embarked upon many innovative projects to become a global leader in knowledge as well as energy-based activities. For example, as one of the world's lowest-cost producers of oil and natural gas, Abu Dhabi has a comparative advantage in non-fuel uses. Through a joint venture, ADNOC's investment in polymers development is one of the most sophisticated in the world, while its strategic geographic position provides access to both the mature markets of Europe as well as newly-emerging economies like China and India.
Furthermore, for many years state-of-the-art plants have used natural gas to produce both Abu Dhabi's electricity and desalinated water needs. As population projections demonstrate rising demand for both these resources throughout the UAE, technological innovations will continue improving efficiency in the power, water, oil and gas sectors to not only meet future demand, but to also address and minimise environmental impacts.
Environmental & Social Considerations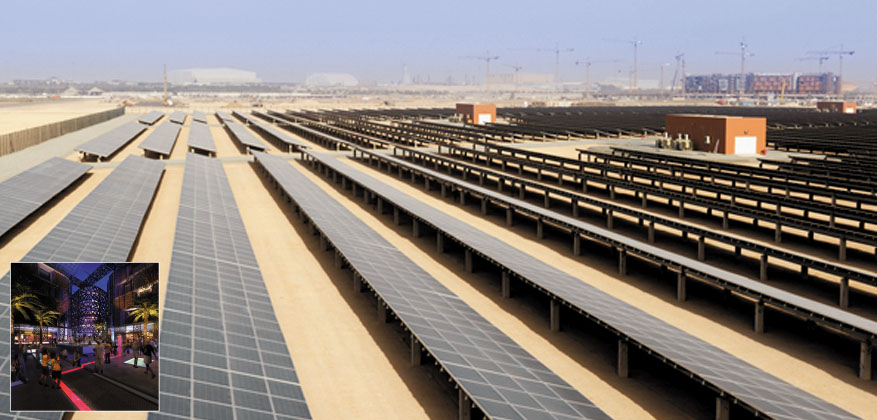 ADNOC and its Group of Companies have an excellent track record of dealing with and reporting on Health, Safety and Environmental issues. As part of the Abu Dhabi Sustainability Group, coordinated by EAD, ADNOC will expand its monitoring and reporting strategies to cover economic, social and environmental issues in accordance with the United Nations sponsored Global Reporting Initiative (GRI). Working together with the Air Quality Committee, ADNOC and EAD are also striving to convert 20% of the most polluting government-owned vehicles in the Emirate to run on clean natural gas by 2012. Abu Dhabi has a truly long-term vision for its leadership role in the energy sector. In particular, it has created the Abu Dhabi Future Energy Company (ADFEC) to develop innovative solutions for energy security and environmental sustainability. ADFEC's many projects and initiatives, including the Masdar City Project (world's first carbon neutral city), aim to promote innovative technological solutions to combat the social and environmental externalities of oil and gas dependency and to also support the Emirate's vision and goal of economic diversification.