Population & Economy Growth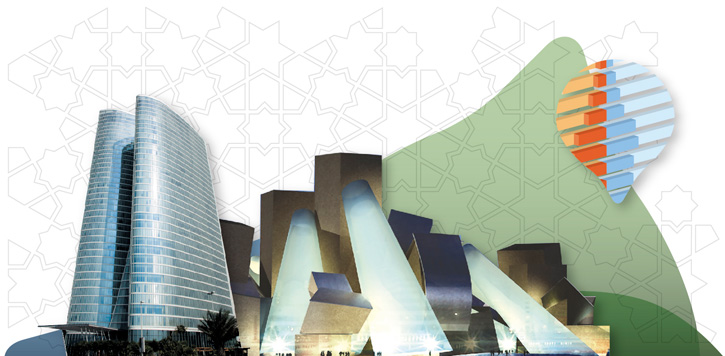 Population & Economy Growth
The Emirate of Abu Dhabi's population has been growing at a phenomenal rate, from 58,000 in 1952 to an estimated 1.72 million in 2009. Furthermore, anticipated growth would leave the city of Abu Dhabi, whose population was 22,000 in 1968, at over 3 million in 2030. Incredible growth was also seen in all of the other emirates, including Dubai and Sharjah, whose 1968 populations were 59,000 and 31,500, respectively.
Experts predict that the teenage and mid-life population sector will dominate by 2030, while life expectancy will surpass eighty by 2050, resulting in a rapid growth in the number of retirees. As the population profile shifts in this manner, areas of growth and demands of public services change significantly.
The Emirate of Abu Dhabi has also continued to become more ethnically diverse, with Emirati nationals, known as al Muwateneen, accounting for only about twenty per cent of the population. Before 1970, the Emirate's small population lacked most of the technical skills needed for a modern society. The commercial production of oil triggered rapid population growth that resulted in improved living conditions for the national population and the large-scale influx of mostly male expatriate labourers. This has created an imbalanced population composition in favour of males. About half of the expatriates in the Emirate are South Asian, whereas the remainder are mainly from other countries in the Gulf, East Asia and western English-speaking countries.
Oil resources have enabled massive modernisation in the UAE. Small coastal towns have been transformed into commercial capitals integrated into the global economy. Because of the harsh desert interior and massive inflows of expatriates, eighty per cent of the population lives in the modern coastal cities of the Emirates, which have become highly dynamic and culturally diverse.
Population Breakdown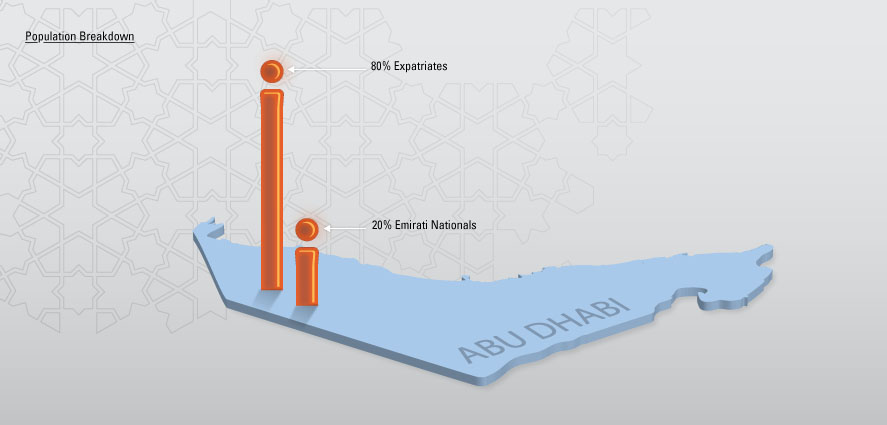 The last census for Abu Dhabi in 2005 highlighted a rapidly growing and diversifying population in the Emirate. Abu Dhabi is a favoured regional destination for expatriate workers, the majority of whom come for temporary and financial reasons. They include thousands of labourers working in the construction sector, skilled 'white collar' professionals and several other prominent groups. The resulting diversification of Abu Dhabi's population has been dramatic – especially in the years corresponding with rapid economic growth.
Improvements in health care, education and living standards from the 1970s onwards fuelled a population explosion. Today, the Emirati population of Abu Dhabi is typified by a disproportionately high percentage of young people who will have high expectations in terms of their quality of life and tend to exert higher demands on social as well as environmental resources. In fact, the age group between 10 and 29 years for the UAE represented over 45% of the total population in 2005 and may have increased in subsequent years. Instilling environmental awareness amongst these young people is essential to preserving the Emirate's unique environmental inheritance.
Economy Fuelling Population Growth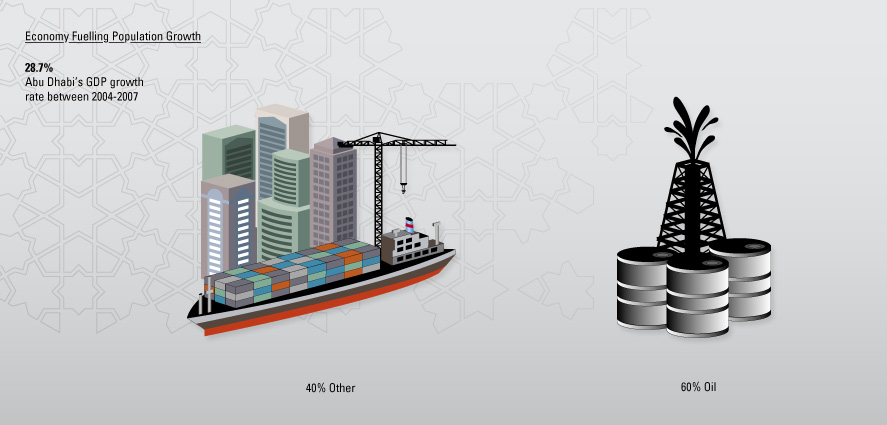 Parallel to the growth and diversification of the Emirate's population, recent decades have witnessed a similar trend within the economy. The wisdom behind this deliberate strategy is captured within the simple proverb: don't keep all your eggs in one basket. Economic growth, diversification and sustainability are strongly interlinked and essential in a globalised, highly competitive and fast-changing world.
Abu Dhabi's per capita Gross Domestic Product is among the highest in the world, comparing favourably with other economies in the region. In 2008 the Emirate obtained over 60% of its GDP from oil and gas, a sector whose share has expanded in recent years due to increasing worldwide energy demand. However, for decades, Abu Dhabi has invested in the transition from dependence on the finite commodity of oil and gas to an economy that is well diversified and sustainable. Because of these investments, the Emirate's non-oil economy has grown substantially over the last 20 years.
Investing in Diversification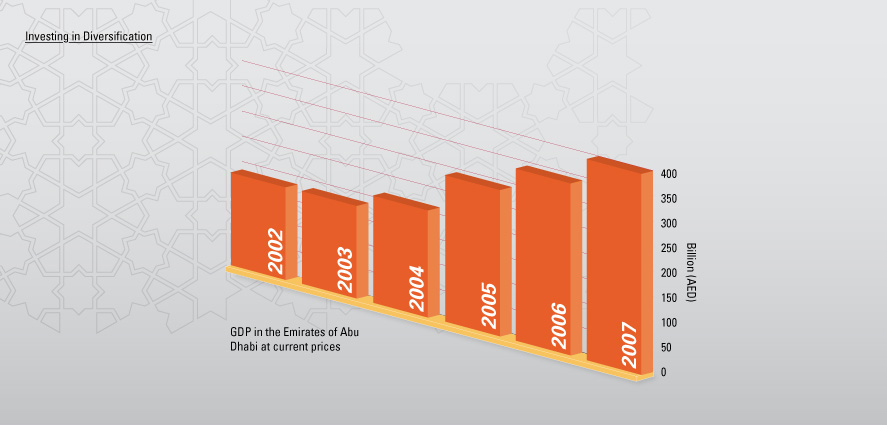 Long-term economic transition began in the mid-1970s when the first 'downstream' oil and gas industries were initiated, including oil refineries and gas liquefaction, followed by a petrochemical industry. Subsequently, the energy sector has further diversified into products such as plastics, lubricants, fertilisers, chemicals and services including construction, port operations and specialised vessels, storage and distribution. Beyond the energy sector, recent initiatives include the development of steel and alumi-nium industries as well as manufa-cturing, such as vehicle assembly.
Pillars of Economic Vision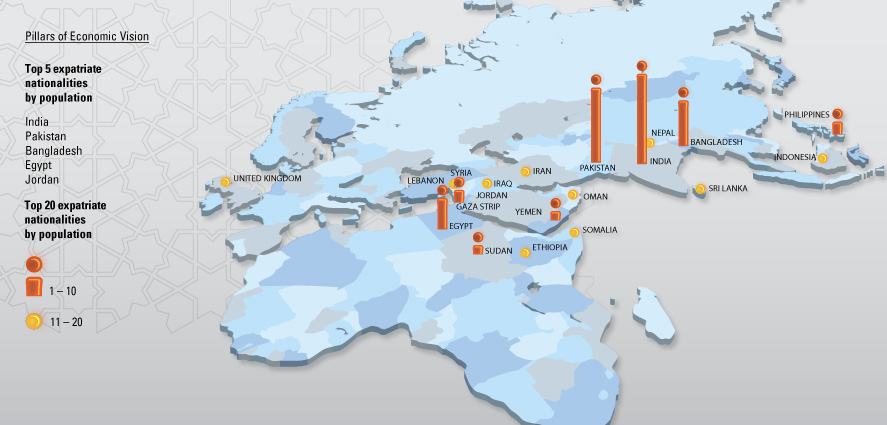 The Abu Dhabi government plans to balance the revenue generated from non-oil trade with new national industries by 2028. Their aim is to reduce unemployment among citizens to 5%, effectively achieving full employment, and to increase GDP by more than 5 times by the year 2030.
Diversifying Towards Sustainability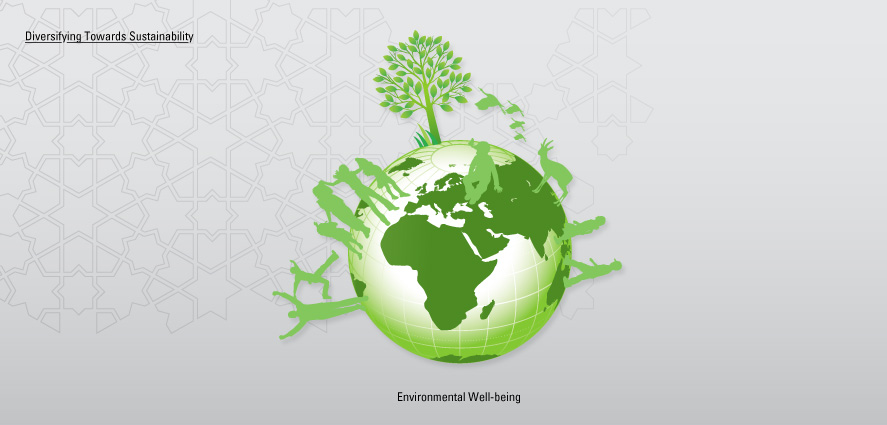 Sustainability remains the cornerstone of economic diversification in Abu Dhabi, which now has many strategic plans for future development. This has minimised the risks and volatility associated with a hydrocarbon-dominated economy. Perhaps more importantly, it will endow future generations with the assets, expertise and skills to adapt to a dynamic world while making steady progress towards a sustainable economy that values and protects both the environment and human well being.
Abu Dhabi Economic Vision 2030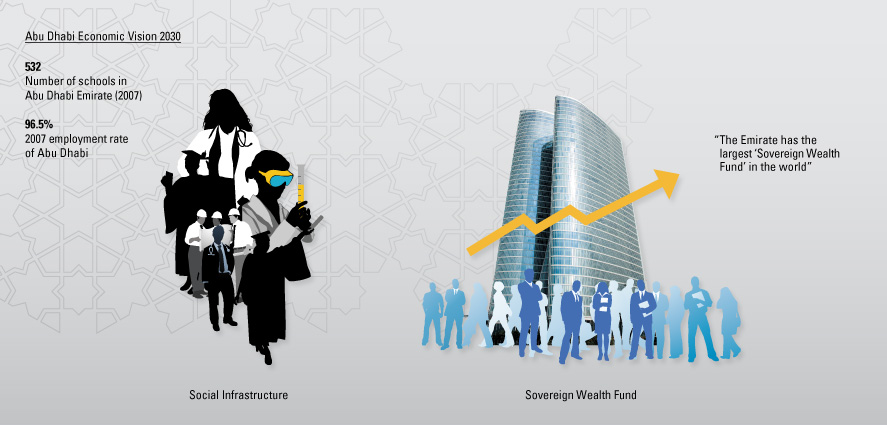 The Emirate of Abu Dhabi has adopted an innovative and pragmatic approach to economic diversification by "making haste slowly." Many diversification initiatives and investments have been under way for some time and can be readily funded from current oil revenues even during global economic slowdowns or recessions. The Emirate has the largest "sovereign wealth fund" in the world and its present and future citizens will not only inherit a diversified economy but also leading-edge assets and opportunities to pursue creative, knowledge-based activities. This will build the essential intangible wealth of human resources through investments in education and health, which are elements of the social infrastructure that allow people to work together more productively.
Abu Dhabi, through its Economic Vision 2030, plans to enhance the combination of human, physical and financial capital to generate the productivity and competitiveness it needs to drive economic growth forward. With these elements in harmony, the twin targets of economic development and stability will be met.