Biodiversity Conservation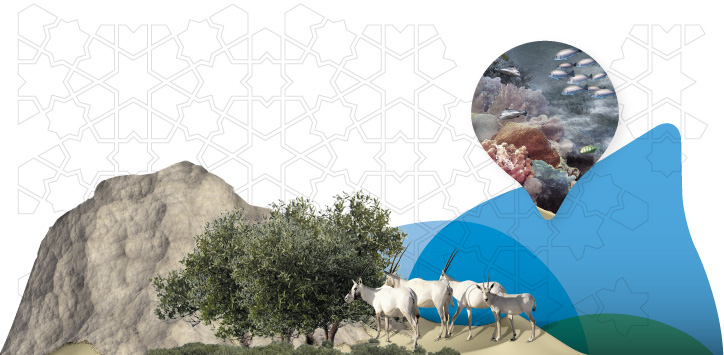 Biodiversity Conservation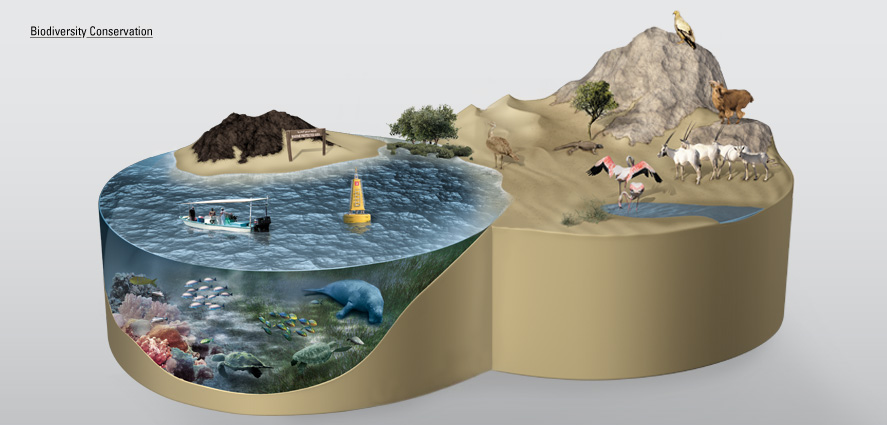 The ecosystems, habitats and communities of flora and fauna of Abu Dhabi are a fragile, priceless treasure. However, development and growth impose intense pressure on these natural assets. Consequently, there is an urgent need for planned and wide-ranging approaches to ecological management and conservation.
In protecting the natural assets of the Emirate, EAD has adopted a variety of measures, requiring effective policies, regulations and actions. These include signing of Memoranda of Understanding (MoUs) with partners to maintain the delicate balance between development and the environment. EAD is also implementing international commitments and treaties for biodiversity conservation. For example, in February 2000 the UAE ratified the Convention on Biological Diversity (CBD).
The CBD aims to establish a global network of comprehensive, representative and effectively-managed protected areas, conserving at least ten per cent of each of the world's ecological regions. Abu Dhabi supports this crucial target through its conservation policies, spearheaded by EAD.
Marine Protected Areas Network
Abu Dhabi is gradually designating an increasing number of Marine Protected Areas (MPAs). The total area of declared MPAs is presently over 6,500 km2, which represents 5.7% of the Emirate of Abu Dhabi waters.
Al Yasat Protected Area
The 2,046 km2 Al Yasat MPA in the west of the Emirate is surrounded by coral reefs that provide foraging habitats for the critically endangered Hawksbill Turtle (Eretmochelys imbricata). The islands were settled from the 1st century AD until the mid 20th Century. Their archaeological sites are of national and regional importance. Multiple environmental management policies are used at Al Yasat, including a 'no take' zone for fisheries, giving fish stocks protection at various stages of their life cycles. 'No take' areas are a promising tool for managing fish stocks and may help reverse declining fish abundance observed in recent years.
Ecosystem Approach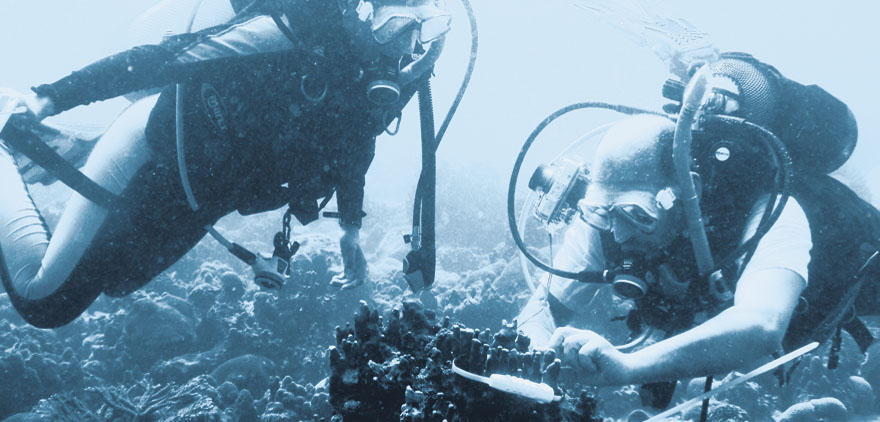 To achieve this goal, an 'ecosystem approach' is being implemented that integrates land, water and biodiversity management to promote conservation and sustainable use. The approach uses scientific methods focused on biological systems that consider the essential structures, processes, functions and interactions among organisms and their environment. Significantly, the approach recognises that humans and their cultural diversity are an integral component of ecosystems. By identifying and protecting priority areas, EAD is taking the first steps down a long and difficult path to maintain the delicate balance between development and the environment. But simply declaring a protected area is not sufficient. Biodiversity management also includes research, monitoring and restoration. In addition, law enforcement and capacity building is required to implement these policies. An ability to adjust one's priorities and conservation approach in a constantly changing environment is also required. These actions and others will help maintain a network of protected areas and ensure conservation of the Emirate's unique biological diversity.
Marawah Marine Biosphere Reserve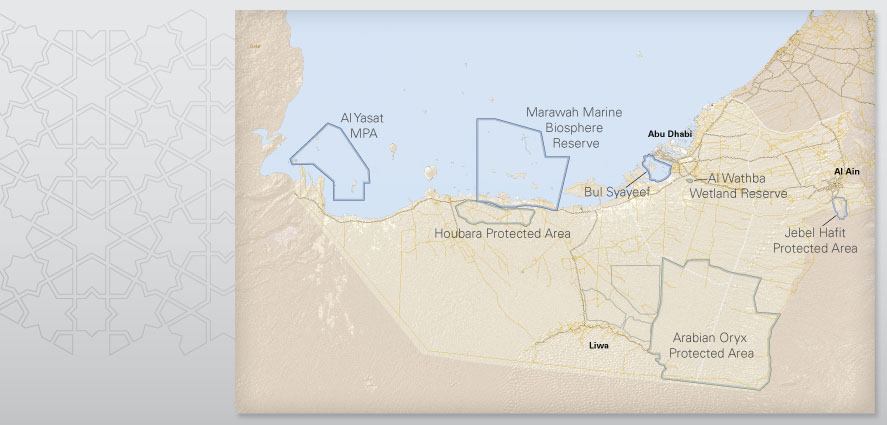 Marawah MBR, a 4,255 km2 UNESCO designated 'Marine Biosphere Reserve', comprises a range of unique marine and coastal habitats including sand flats, mangroves, seagrass beds and coral reefs. These are especially important to migratory and endangered species such as the Green Turtle (Chelonia mydas) and to those vulnerable to extinction, such as the Dugong (Dugong dugon). The Marawah Marine Biosphere Reserve recognises and balances the needs of local communities with the requirements of conservation. Inhabitants of Marawah Island can trace their ancestry back many generations. They are highly knowledgeable fishermen with a practical understanding of sustainable fisheries and their own unique environment.
Terrestrial Protected Areas Network
The sensitivity and importance of the marine environment is mirrored in terrestrial habitats, which also, together with their flora and fauna, require protection to preserve their natural states and to limit the impacts of human development. The EAD has formally designated one area as a Terrestrial Protected Area (TPA) and is in the process of designating several additional areas as TPAs.
Jebel Hafit Protected Area (proposed)
As the only mountain in Abu Dhabi, Jebel Hafit is a well known landmark that provides habitat for rare species such as the Arabian Tahr (Hemitragus jayakari) and the Egyptian Vulture (Neophron percnopterus). To protect these species and the natural, cultural and recreational value of Jebel Hafit for future generations, plans have been developed to declare this relatively small area of 96 km2 as a Terrestrial Protected Area.
Arabian Oryx Protected Area (proposed)
In the early 1960s, the late Sheikh Zayed, concerned about the potential extinction of the Arabian Oryx, ordered the establishment of a captive breeding programme at Al Ain Zoo. As a result of this and other programmes, there are now approximately 4,000 Arabian Oryx in the UAE, permitting a release programme to be launched. An area of 7,904 km2 of suitable habitat has been identified in the south-east corner of the Emirate. A release of 98 individuals was carried out in 2007 and by 2009 there were over 150 Arabian Oryx in the release site.
Al Wathba Wetland Reserve TPA
Al Wathba Wetland Reserve is a 4.9 km2 artificial wetland with a rich biodiversity of plants and animal species. This includes the Greater Flamingo (Phoenicopterus roseus), which has bred here in the past.
Houbara Protected Area (proposed)
With the support of EAD, the International Fund for Houbara Conservation (IFHC) has established a major captive breeding programme for the threatened Asian Houbara Bustard (Chlamydotis macqueenii), the traditional quarry for Arab Falconers. In 2008 it produced 981 chicks in captivity, and is working towards the future production of 10,000 birds annually, most of which will be released.
A re introduction programme has been launched in western Abu Dhabi, with a number of birds both surviving and breeding. To support this, EAD has proposed the establishment of a 769 km2 PA habitat for the Houbara. IFHC also collaborates with other countries stretching across the Houbara migratory range from Yemen to Kazakhstan and China, promoting their participation in national, regional, and international conservation initiatives.
Bul Syayeef Protected Area (proposed)
Bul Syayeef is a 282 km2 protected area located just west of Abu Dhabi City that includes islands, shallow water and intertidal areas. Birds fitted with satellite transmitters have proved that Bul Syayeef is part of a network of feeding and roosting sites used extensively by Flamingos. Bul Syayeef is under consideration for formal designation as an MPA to conserve a range of suitable habitats for the Greater Flamingo and other resident and migratory bird species.