Air Quality: Levels of Particulate Matter Exceedance
Layers
Particulate Matter Exceedances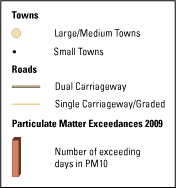 Air quality in the Abu Dhabi Emirate is regulated and monitored by the Environment Agency – Abu Dhabi. The Air Quality Management (AQM) programme monitors ambient air quality and meteorological conditions at ten fixed stations around the Emirate to identify trends and provide feedback on the need for appropriate emission control technologies. The indicators that are measured include particulate matter, ozone, nitrogen oxides, carbon monoxide, sulphur dioxide and volatile organic compounds.
Indicators are monitored to ensure concentrations do not exceed applicable standards at the federal level.
For 2009, particulate matter (PM10) was the only indicator at all stations that consistently exceeded applicable federal regulations; elevated PM10 levels are generally attributed to industrial activities, vehicle emissions and local climatic conditions. PM10 levels are on average higher in desert environments as a result of wind-blown sand and dust. The guideline for particulate matter for the Emirate is not to exceed 150μg/m3 in a twenty-four-hour period. The highest concentrations of PM10 during 2009 were recorded in the industrial city of Mussafah.